Own it with EZ. Since 2001.
Get the items you need today with flexible payments & amazing service.
EZ rent to own purchase plan info:
We service the state of Utah, southeast Idaho, and select surrounding areas. We have 9 amazing store locations.
No Credit Needed
Our EZ application is all you need to open your account. It asks for basic information such as your address, source of income, and personal references. After your application is completed it is reviewed by our local team. Once approved you can add items to your account and enjoy all our amazing purchase options and account benefits.*
Payments & Payoff Options
Our EZ rent to own purchase plans have weekly, biweekly, and monthly payment options and on average are for 12 – 24 months. All EZ purchase plans include 3 payoff options: 90 days same as cash, early purchase option, or simply make all the regular weekly, biweekly, or monthly payments.*
Free Delivery & Service
Delivery: our EZ rent to own purchase plans include free delivery and set-up directly to your home. That means no extra driving or guessing on how to correctly set up your new products in your home.*
Service: our EZ rent to own purchase plans include service protection. That means while you are making payments you are guaranteed a functioning item free of defects, so you don't have to pay any additional out of pocket repairs. If your product needs repair, we will even give you a loaner unit to use while yours is being repaired.*
Item Selection
We carry the latest furniture, mattresses, appliances, electronics, and tires from the best brands like: Ashley, Whirlpool, Samsung, & many more. We have an amazing selection of items in-store ready for immediate delivery. We also can special order from 100's of items so we can find the exact item you need. We carry NEW and discounted pre-leased items. Contact us for a complete selection.
Product Replacement Program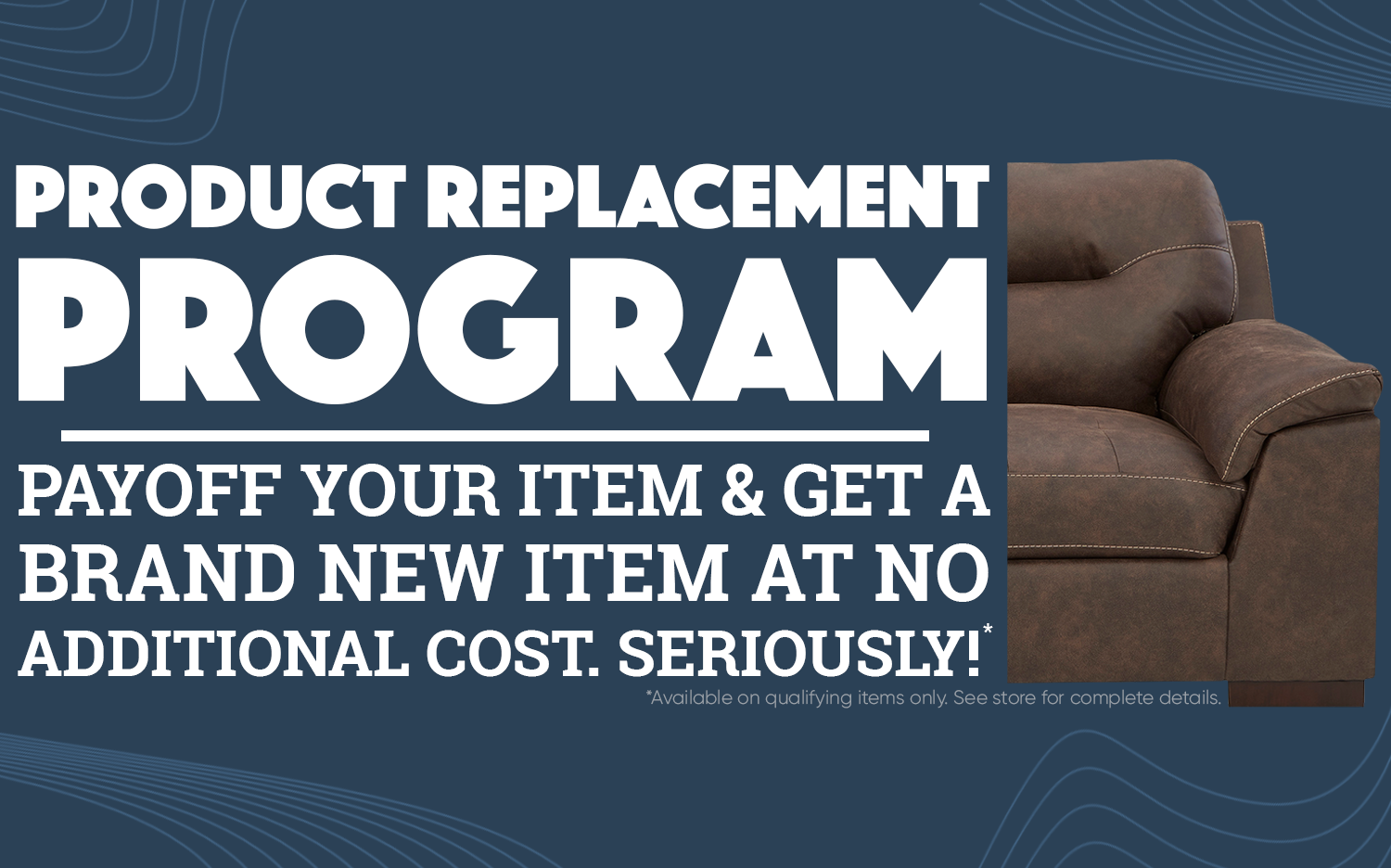 Start New. End New.
Payoff any qualifying EZ rent to own purchase plan 95% on time or better and we will bring you a BRAND NEW replacement item in exchange for your old paid off item!*
Imagine paying off a sofa after 24 months and getting a BRAND NEW replacement sofa for NO additional cost! We are serious! It's truly amazing.
This amazing program is included on all qualifying

furniture, mattresses, appliances, and electronics

! For qualifying item info please contact us or visit any store.
We are the only company in Utah & Idaho to offer this amazing program. Thousands of customers have enjoyed their new replacement items since 2001.
Upgrade or Return Any Time
Items on an EZ rent to own purchase plans can be returned, exchanged, or upgraded at any time. Want to change your style? No problem! Want to get a bigger item? No problem! Simply meet the 3 monthly payment minimum to qualify.*
Customer Service & Reviews
Our customers always work with an amazing local team in their area. We are one of the highest rated companies in Utah for both furniture and lease to own services because we truly care about our customers. See our stores google reviews.
*See store for complete item selection and pricing information. Submitting a request, quote, or application online does not guarantee item availability or the purchase of any item. Our EZ rent to own purchase agreements (EZ purchase plans) are labeled and signed as a "RENTAL PURCHASE AGREEMENT" on account. New rental purchase agreements require a completed and approved application. Applications and updated applications are subject to verification and can be approved or denied at any time by our team. New rental purchase agreements may require a $20 processing fee. See the specific rental purchase agreement for the complete terms and conditions of the agreement which includes: payment amounts, payoff options, new product replacement program (new product guarantee), and item upgrade/return options. Delivery: is free within a 30 miles radius or as determined by our staff. Set up is free within the determined time frame by our staff. Item service: only applies to active rental purchase agreements and does not cover purposeful/accidental damage or item neglect. Switch to us cash: (up to $100 per agreement) is only paid when new a new rental purchase agreement is signed, the first monthly payment has been made, and the corresponding competitor agreement is closed. Customer must be in good standing to qualify. Referral program: The $50 referral cash bonus will be paid to the customer who provided the referral when the referred customer has signed a new rental purchase agreement and the referred customer has made their first monthly payment or the equivalent amount. Both customers must be in good standing to qualify. Previous or current customers cannot be referred.